Fashion is constantly pushing and redefining boundaries. Wearing booty shorts has become increasingly popular among men. They symbolize confidence, fitness, and changing masculinity perceptions.
As a form of self-expression and style, booty shorts have become a staple for many gay men. A standout name among the brands catering to this trend is Timoteo. Taking pride in its quality, style, and comfort, Timoteo offers mens booty shorts that fit well and make you feel confident and fabulous.
This article explores the trend of men's booty short shorts, focusing on the brand Timoteo. We'll guide you through selecting and caring for your perfect pair. Furthermore, we have compiled a list of the best mens booty shorts you can buy.
The Appeal of Mens Booty Shorts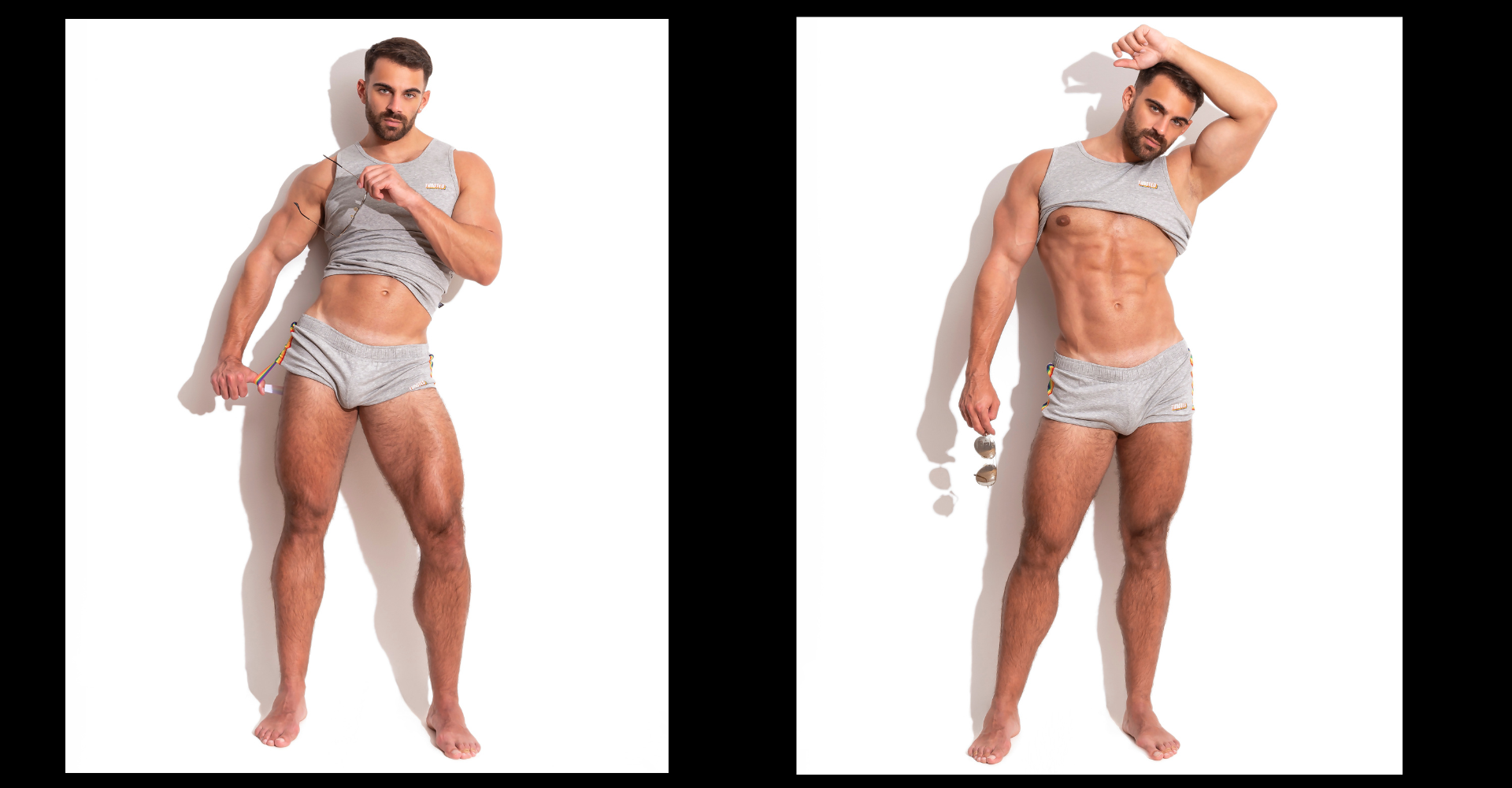 Booty shorts have emerged as a bold and liberating style trend in men's fashion. Embracing more diverse casual wear and a body-positive aesthetic, they break away from traditional masculinity norms.
In particular, gay men seek these and wear shorts as a form of self-expression, a celebration of body confidence, and a symbol of freedom.
Booty shorts are perfect for various settings, from the gym to the beach and even casual outings. The snug fit and shorter length allow for better movement and breathability, making most shorts a practical choice for active lifestyles.
They're daring, playful, allow legs breathe, and undeniably eye-catching, making them a favorite for those who love to stand out in the crowd.
Why Choose Timoteo for Booty Shorts
Regarding booty shorts for men, Timoteo has carved out a niche. The brand's commitment to quality, style, and comfort sets it apart in the market.
Each pair of Timoteo booty shorts is designed with thorough attention to detail. They ensure a fit that's comfortable and flattering.
Timoteo understands that when you wear booty shorts, you're making a statement. That's why their designs are bold, stylish, and trend-setting.
Whether it's the fabric, the cut, or the color, every element is thoughtfully chosen to enhance the wearer's confidence and appeal.
So, if you're looking for booty shorts that combine style, comfort, and quality, Timoteo is a brand worth considering.
Top Mens Booty Shorts from Timoteo
Timoteo offers a diverse range of the best booty shorts for men, each designed to make a unique style statement. Here are some of the top picks:
Soma Denim Booty Short

The SOMA Denim "Booty" Short by Timoteo is a solid pair that captures the essence of summer. Drawing inspiration from the vibrant and daring fashion of the 70s, these shorts bring a retro charm to modern-day style.
Crafted with a unique blend of materials, these shorts prioritize comfort without compromising style. Combining cotton, polyester, and spandex, this booty short offers a snug fit that compliments your physique while providing the stretch you need to move freely.
Practicality is another strong suit of these shorts. With five pockets, they offer ample space for your essentials. The zip fly and button closure add a classic touch to the overall design.
A distressed denim look and raw hem finish gives these shorts a rugged appeal. The Indigo color is vibrant and eye-catching, making you stand out in a crowd. You can order the Soma Denim Booty Shorts here.


All Access Zipper Short

The All Access Zipper Short by Timoteo uniquely blends style, comfort, and functionality. It comes with a zippered pocket that adds a distinctive touch to the overall design of these short shorts. It's hard not to like these Timoteo workout shorts because they are one of the best in the business.
The shorts are crafted from a soft, stretchy rayon-nylon mix, ensuring comfort and flexibility. Whether engaging in physical activities or simply lounging, these running shorts are designed to keep you comfortable. The adjustable drawstrings allow for a personalized fit, adding comfort and wearability.
The All Access Zipper Short also features a custom CellBlock13 patch on the leg, adding a touch of brand authenticity. There are various inch inseam sizes available to accommodate different body types and ensure a flattering fit. You can order All Access Zipper Short here.
Ajax Camo Mesh Short

The Ajax Camo Mesh Short by Timoteo is designed for the modern man who values comfort and style in equal measure. These short shorts are made from a high-quality sports mesh fabric that is comfortable and allows you to breathe fitness. You will feel the stretch and comfort of this fabric on your thighs when you wear them.
The shorts also feature an enhancing pouch that lifts and supports. This detachable pouch offers the option for a more relaxed fit when desired.
The Ajax Camo Mesh Short's design style is trendy and practical. The camouflage pattern adds a rugged appeal, while the gathered elastic waistband ensures a secure fit. These men's workout shorts are cut to show off your legs, making them an excellent choice for the gym, the pool, or a casual day out. You can order Ajax Camo Mesh Short stuff here.
Newport Resort Short by Timoteo

The Newport Resort Short by Timoteo is a versatile piece that promises to be as essential to your summer wardrobe as your favorite pair of chinos. This best-selling moisture wicking short shorts is designed to be both casual and swimwear, making it a perfect companion for summer adventures.
The Newport Resort Short is neatly tailored and cut for a slim fit, ensuring a flattering silhouette. It is made of an ultra-luxe nylon/spandex blend, which gives it a comfortable stretch and a luxurious feel. The shorts also feature a soft built-in lining, enhancing its comfort and functionality.
The shorts are designed with a rubberized patch with the Timoteo logo at the back right, adding a touch of designer appeal. They also feature a pewter button detail on the waistband, which adds a stylish accent to the solid body with color-coordinated stitching.
The Newport Resort Short has two front pockets, a zipper pocket at the back right, and a hidden pocket inside the waistband. These pockets provide ample storage for your keys, coins, and other small essentials.
The shorts are fully lined and have a 1-3/4 in wide covered elastic waistband to make them stretchy with a decorative button detail. The inseam measures 5 in, and the outseam measures 13-1/2 in. The fabric content of the shorts is 75% nylon and 25% spandex. You can order Newport Resort Short here.


Brooklyn 2.0 Short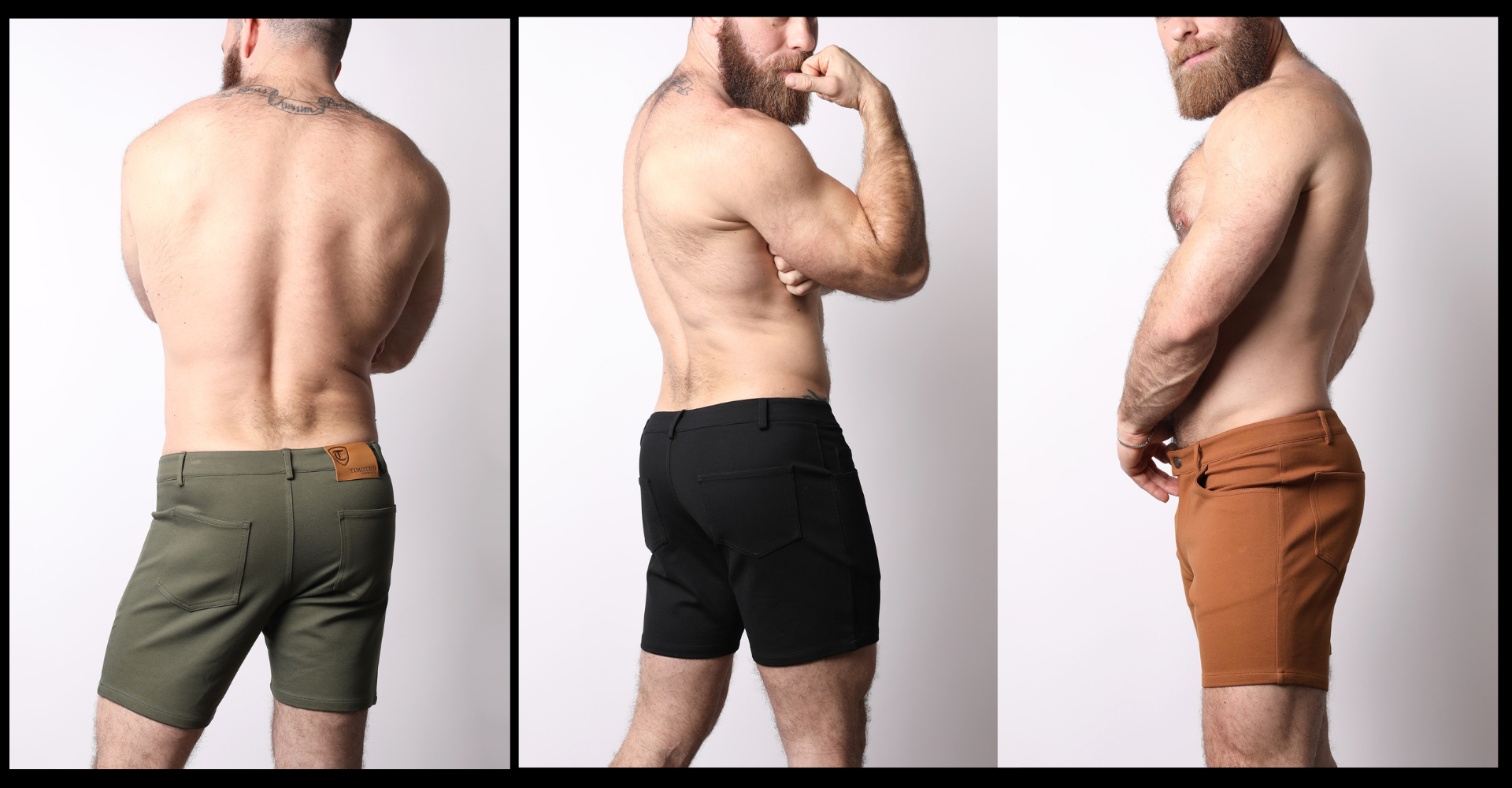 The Brooklyn 2.0 Short by Timoteo is an updated version of the popular Brooklyn Short. With their high-quality, stretchy viscose, nylon, and spandex fabric, these short shorts are both comfortable and stylish.
The Brooklyn 2.0 Short hits above the knee, offering a casual yet refined look. It can be effortlessly paired with any tees and button-up shirts in your closet, making it a versatile addition to your wardrobe. The shorts feature a leather patch on the back that displays the Timoteo logo, adding a touch of designer appeal.
The shorts are designed with a solid color body and color-coordinated stitching. They come with a logo embossed on a metal button, adding a stylish accent to the overall design.
The Brooklyn 2.0 Short has two front slant pockets and two back patch pockets, providing ample storage for your essentials. It has a zipper fly, a 1-1/2-inch wide waistband, belt loops, and a button closure.
You can order Brooklyn 2.0 Shorts here.
How to Choose the Right Mens Booty Shorts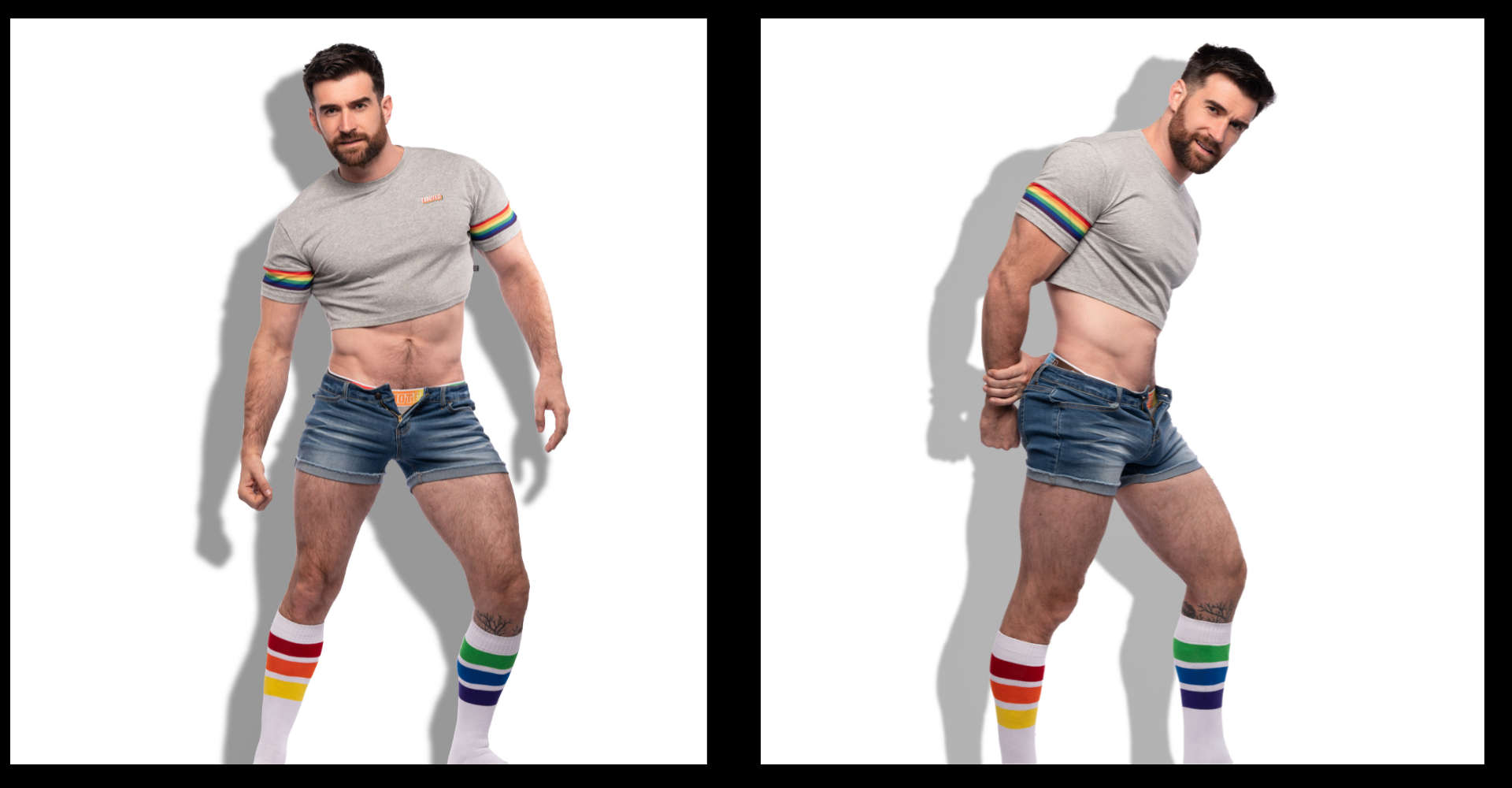 Choosing the right pair of booty shorts involves more than just picking a design you like. Keeping these factors in mind will help you make the right decision:
Material
The fabric of the short shorts plays a crucial role in comfort and durability. Materials like cotton, polyester, and spandex are commonly used for their breathability and stretchiness. Look for a sweat wicking blend that offers a good balance of comfort and flexibility.
Fit
The right fit is essential for good pair of booty shorts. Short shorts should hug your body in the right places without being too tight or restrictive. Consider your body type and choose a design that complements your physique.
Design
Booty shorts come in various designs, from solid colors to patterns like camouflage. You should choose a design that matches your style and the occasions for which you plan to wear them.
Brand
The brand matters for a good pair. Wearing brands like Timoteo are known for their quality and stylish designs. Choosing a reputable brand ensures you're getting a product crafted with care.
Size
Always check the brand's size guide before making a purchase. A wide array of sizes exists between mens booty shorts brands, so measuring yourself and comparing it with the brand's sizing chart is important.
You need to check the inch inseam, side seam, and waist sizes. Lengths of five Inch inseam and seven are the most common sizes that men wear.
Care Instructions for Men's Shorts
Check the care instructions before buying. Some pair of shorts may require special care, like hand washing or air drying, to maintain quality.
Remember, the best booty shorts are the ones that make you feel confident and comfortable. So take your time, consider these factors, and find the pair that's perfect for you.
Caring for Your Booty Shorts
Proper care of your booty shorts can extend their lifespan and keep them looking great on men's thighs. Here are some tips on how to care for your shorts so you continue wearing them for extended periods:
Check the Care Label
You should always check the care label on your shorts to find out how they should be washed. Different materials may require different care methods.
Washing
Generally, washing your shorts in cold water is best to prevent shrinkage and color fading. When washing delicate shorts, select a gentle cycle.
Detergent
Avoid damaging your fabric by using a mild detergent. Ensure you don't use bleach or harsh chemicals on the material that could cause discoloration or damage.
Drying
Whenever possible, air dry your shorts instead of using a dryer. High heat to dry quickly can cause shrinkage and damage the fabric's elastic waist. Dryers should be set at the lowest heat possible if they must be used.
Storage
Store your shorts in a dry, cool place away from direct sunlight. Avoid folding them too tightly to prevent creases and wrinkles.
Avoid Ironing
Most booty shorts are made from materials that don't wrinkle easily, so ironing is usually unnecessary. If you need to remove wrinkles, use the lowest heat setting and avoid ironing directly onto any prints or designs.
Booty shorts for men have emerged as a bold and liberating trend, particularly within the gay community and bad boys. They're a testament to the evolving definitions of masculinity and a celebration of body positivity.
Brands like Timoteo have embraced this trend, offering a range of stylish and comfortable mens booty shorts that cater to different styles and preferences.
We hope the article has helped you find the best booty shorts for men and how to extend their usefulness. So, let's continue to rock this new fashion world together, one pair of booty shorts at a time.