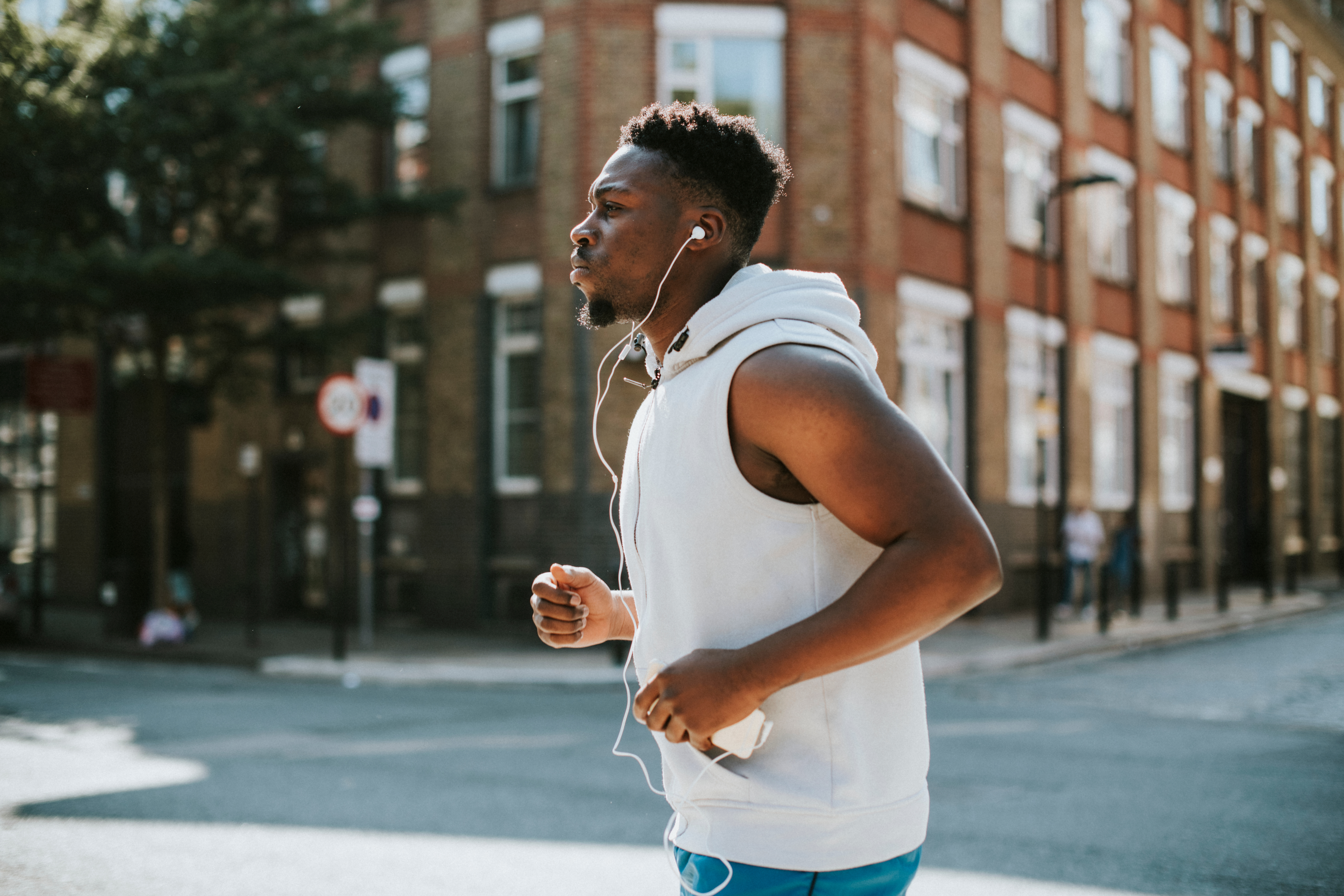 Do your earbuds continually slip out of your ears whenever you try to run down that winding road with your favorite soundtracks playing in the background? Earphones are favored by many individuals, given that they are more versatile, portable, and offer ambient noise.
Yet, the vast majority of them confront the daily challenge of keeping them in place. Among many reasons, moisture in the ears, varying ear shapes, and repetitive motions of physical activities, especially during running, may make them lose and lead them to drop out.
For this reason, most running earbuds come with silicone-based or rubber-made ear tips to ensure a snug fit regardless of ear canal shape or size. This is because mass manufacturers that produce running headphones presuppose that a single size suits all ears, but that isn't true.
The marketplace is brimming with running headphones and wireless earbuds options with distinct features that elevate their running experience and comfort. Finding the perfect earbuds for running might be a difficult task.
While the perfect headphones can immerse you in your favorite tunes during a workout, the right athletic wear can elevate your entire exercise experience. Just as you'd invest in top-quality headphones for the best sound, consider exploring Timoteo for apparel that complements your commitment to quality in every aspect of your fitness journey.
To assist our readers in finding the top eaphones for running that dont fall out, we have compiled a list below for this very reason. Below you will find a detailed purchasing guide to assist you in making an informed choice.
The Art and Science of Earphone Design
Running earbuds have been trendy for quite some time. In-ear and around-the-ear styles are common and are made with the ear's curves in mind. These help keep them securely in position. American engineer Nathaniel Baldwin developed the first commercially viable headphones, which all demographics have used since then.
The highest-quality headphones with ambient sound are designed with an effective combination of physics, anatomy, and psychological features. The ear's size and shape serve as the primary anchors, keeping them in place between the tragus, anti-tragus, and of the ear's canal.
The tips may be too small, or the frame size may not be according to your ear shape, making them easy to lose if you aren't careful. They use Radio Frequency (RF) to transmit audio signals to the eardrum. This helps register various kinds of sounds and music.
While others, chosen specifically for the ear's shape and size, are a perfect fit and stay in place. In addition, earbuds' wireless connectivity, water resistance, and lightweight build all contribute to their suitability for use while running.
Detailed Reviews of Earphones That Don't Fall Out
1.
Beats Fit Pro True Wireless Earbuds
Your search for high-performing earbuds with an appropriate fit ends with the Beats Fit Pro True Wireless Earbuds. Alongside it is a cheap wireless earbuds option with completely wireless functions. Its advanced features take your listening and usage to the next level, such as the ones elaborated on.
Secure Fit Wing-Tips for Stability
Its modernized and flexible wingtip shape ensures an additional snug fit for those who lead active lives and go for runs and do physical activities often.
Users of competing platforms can now enjoy the perks and advantages of Apple's trademark goods via the availability of a Beats app for Android.
Adaptive Listening Modes
Earphones come with three different playback settings for your listening convenience. Among them is the Transparency Mode, which allows background external noise to seep through. These let users hear traffic, wind noise, and any external sound. Then it has an Adaptive EQ that adjusts according to the surrounding sounds. Last is the Active Noise Cancellation that drowns out the background sounds for an ultimate experience.
It also comes with 6 hours of battery life and up to 24 hours combined with the charging case. It is more than the one offered by the previous models or other options in the market. Not only that, but it reduces electricity usage and enhances utilization making these the best earbuds.
IOS-Centric Features
These sport earbuds are designed specifically for iOS devices and incorporate the Apple H1 chip for simple connection. It offers a better Bluetooth connection, so you can talk for longer without your call cutting off. Spatial Audio is supported in these, and it even has head-tracking capabilities.
It's perfect for totally immersing yourself in your favorite tunes, films, or video games. It also includes adaptive EQ, which Apple claims will adapt music to the user's ears.
Sweat and Water-Resistant
There is n need to worry If you want to go for a run or workout, as these are water and sweat resistant. Each earbud weighs only 5.6 grams and can withstand mild rain or sweat with its IPX4 rating.
They are comfortable to wear and available in four different colors (white, lavender, gray, and black). These running earbuds come with a warranty of 1 year by the manufacturer.
Pros
● Lightweight
● Portable
● Versatile
● Longer Battery Life
● Noise Cancellation
● Beats application connectivity
● Affordable
● 1-year warranty
Cons
● Wired charging
● Case is bulky


2. Shokz OpenRun Pro Bone Conduction Headphones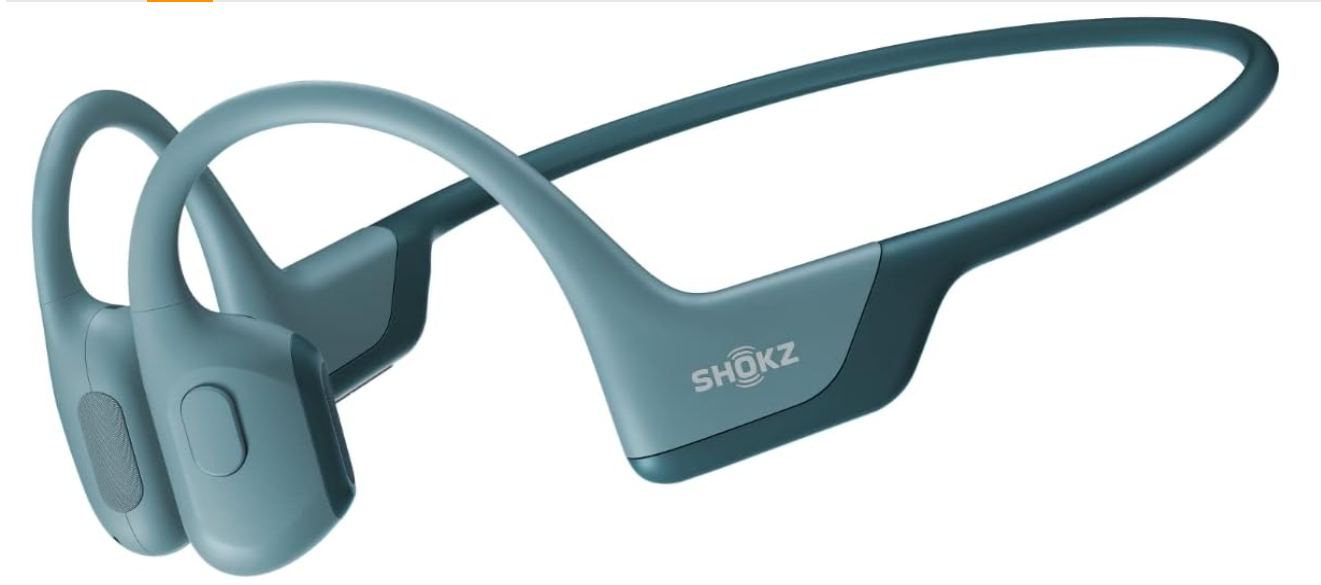 If you are looking for a premium quality sound and a stylish design, then Shokz OpenRun are the earphones for you. Not only do they have a user-friendly design, but have a 4.6 rating, making them an ex excellent option overall.
Titanium Frame Fit
When you're running or working out diligently, your upper body is subjected to many vibrations, which might cause your earphones to fall out. The wraparound titanium frame of the ultralight Shokz OpenRun earphones ensures that they won't fall out of your ears no matter how strenuous your workout is. They also come with Bluetooth v5.1, making them high-quality Bluetooth earbuds.
Ergonomic Open-Ear Design
Providing the user's ultimate comfort, these sport earbuds come with a budless design. They are created in such a way that they fit snugly and do not fall off easily. Their IP55 classification makes them suitable for use in wet and steamy environments.
Exceptional Sound Performance
For you to have a comfortable listening experience, these earbuds are designed with 9th Generation Bone Conduction Technology. These sit flush against the listener's cheeks, entailing them to the best earbuds. When using these devices, the bass-heavy sound does not go through the eardrum through vibration to the inner ear and then the cochlea.
Instead of putting strain on your eardrum from listening to music or the media on repeat, conduction through the bone sends vibrations directly to your cochlea. It offers a good sound quality with the least noise, enhancing your runs and activities on a daily basis.
Extended Playback Time
In addition to all these amazing features, they come with a prolonged 10 hours of battery life for music and phone calls. It has a fast charging speed and gets fully charged within 60 minutes.
Pros
● Durable
● Ultra-light
● Dust resistant
● 9th Gen-Bone Conduction Technology
● Long battery life
● 1-year warranty
Cons
● Expensive
● Delay in initial connectivity


3. Jaybird Vista 2 Bluetooth Wireless Earbuds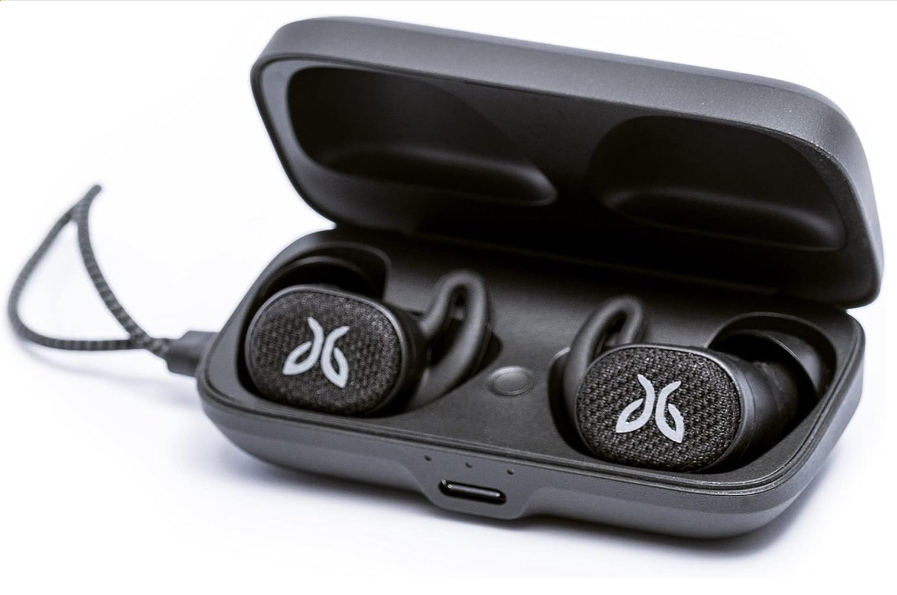 Look no further if you are searching for eco-friendly and sport-fit best earbuds for running. Jaybird Vista 2 excels in its making with fast Bluetooth connectivity, user-focused built, and sound surprisingly good density. We have discussed some of its characteristics below.
Durable Built
For your everyday use, these sport earbuds come with IP68 and MIL-STD-810G certifications, which prove that they are built to last. This means that they are also resistant to perspiration and dust, in addition to being water-resistant. Moreover, these are the best earbuds to withstand cold, stress, and collision without being severely damaged, leaving only superficial scratches in their wake.
Ear gels of three different sizes are included with the headphones and come with ear hook . In the event the earbud tips are too large or too small for the ear canals, you may need to swap them out for another size to get the best possible high-audio quality experience and calling functionality.
Active Noise Cancellation Properties
To assist its user's focus, its active noise canceling feature muffles ambient noise so that they can focus on the task at hand and provide their best performance. More than that, its Surround sense feature helps you stay in the loop and alert to your environment. Wind-protected microphones listen to the environment, so you can maintain spatial awareness without losing a beat.
Top-Tier Sound Levels
It has 6MM milled drivers, which provide the sound of outstanding quality, and it allows you to customize the EQ settings so that you can control your sound. It optimizes listening to soundtracks or any form of media with its bass.
Exceptional Bluetooth Connectivity
Apart from being light, weighing only 9.1 ounces, it uses the most advanced level of Bluetooth connectivity with an extended range. It helps the user listen to music and attend calls without glitches. The product has 1 -year manufacturer's warranty.
Pros
● IP68 certification
● Fast Wireless charging
● Noise cancellation
● Easy connecting app
● 1-year warranty.
Cons
● A little bit expensive
● Poor battery life
● Ear gels sizes are limited


4. Apple AirPods (3rd Generation) Wireless Earbuds
The third-generation Apple AirPods are the best Bluetooth-enabled headphones you can buy because they provide a superb listening sensation in addition to their usual benefits of portability, aesthetic appeal, and revolutionary technology. These sports earbuds are significant improvements over the previous models in terms of sound clarity, connection, and design, and despite being more expensive, we recommend them.
Ergonomic Design
AirPods 3 comes with a modern look and sleek build that was designed considering the shape of the ear contours. The new models, with their shorter stems and curved housings, are more pleasant to use for extended periods.
These stems now come equipped with touch-sensitive force detectors, allowing you to change the music on your device. This also allows answering and hanging up on incoming calls by just giving them a tap. These are great options in comparison to Apple Airpods Pro.
Water Resistance
The AirPods 3 are designed to be used during physical activity due to their compact size and IPX4 classification for resistance to water. It comes with a stellar 4.5 rating, making it a highly sought-after wireless earbuds option.
Rich Sound
With the addition of Spatial Audio compatibility and updated drivers and boosters, your favorite music will sound decent and richer than before. When employing Spatial Audio technology, even standard stereo files sound incredible, regardless they were originally recorded in Dolby Atmos or not.
The AirPods' unique acoustic screen shields their external microphones, and the AAC-ELD codec guarantees crystal-clear phone calls. These sport earbuds are ideal for long-range usage and do not cause delays like apple airpods pro.
Premium Connectivity
AirPods 3rd Gen owners additionally benefit from wireless Siri activation, Bluetooth 5.0, SBC, AAC, H1 chip, Audio Sharing, Group FaceTime, and pairing with Apple's Find My network.
Lightning, Qi wireless (MagSafe). It also comes with 6 hours of listening time. The Apple Limited Warranty protects your AirPods regarding defects in both construction and materials for a period of 1-year from the date of purchase.
Pros
● Durable
● Top-tier built
● Superior spatial audio
● Water-Resistant
● Auto-connectivity
● Portable
● 1-year warranty
Cons
● Pricey
● Poor battery performance


5. Urbanista Phoenix Solar Powered Earbuds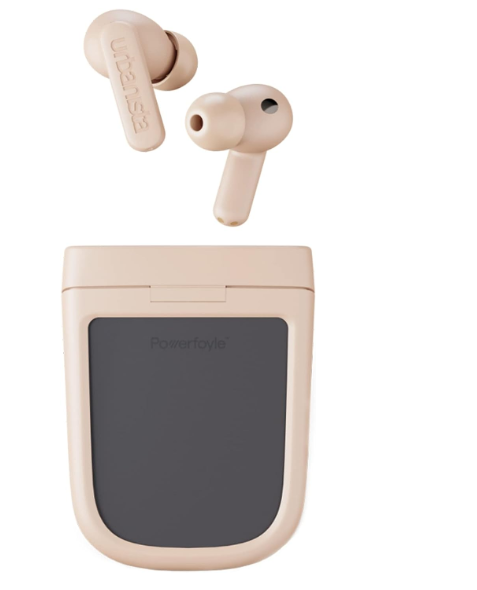 Individuals looking for earbuds, with max energy consumption without compromising sound quality, cannot find a better fit than Urbanista Phoenix Earbuds. With an affordable price range, these earbuds have high performance. They also have an Urbanista Audio App That has a live view option of battery drainage making it highly convenient. Let's look at some of its amazing features below:
Solar Cell Technology Integration
While going on a run in the morning, If the case is exposed to direct sunlight, it can be charged easily. Its case uses Powerfoyle solar cell technology, which enhances the charging capability of these wireless headphones by many folds.
It offers 34 hours of battery life and r reserve and 8 hours of playback. These can easily give you excessive time to enjoy music without interruption and are the best wireless earbuds.
Versatile Design
For comfort as well as style, these sports earbuds are designed in such a way as to mold to the shape of the ear keeping ears securely in place. Additionally, these come with 3 sizes of silicon tips for each ear canal fitting. This enhances convenience and stability. It doesn't easily let the earbuds fall off, making them the best headphones related to design.
Their connectivity feature is enhanced through ultra-modern Bluetooth 5.2. This allows easy connection with 2 devices at one time. The sound automatically shifts between the two.
In-Ear Gesture Detection
Syncing to the iOS voice control of Google Home is an easy feat with these earphones. Its In-ear detection technology automatically halts the audio playback in case you remove the earphones. This makes it highly functional. The user-focused gesture and touch control it offers make all the difference.
Apart from that, they do not make your ears hurt with loud sounds. These have 10 mm dynamic audio drivers which give out clear and high-quality sound. They also have active noise canceling enabled along with a transparency mode.
Water-resistant Built
Another great feature is that the earbuds have IPX Water resistance. Its sweat-resistant feature allows it to stay put within the ear in terms of any moisture or sweat accumulation in the ear.
The Urbanista Phoenix comes with a 1- year warranty.
Pros
● Portable
● Affordable
● Transparency mode
● Clear surround sound
● Intuitive design
● Water-resistant
Cons
● Glitching gesture controls
● Some connectivity disruption in case of area change.


6. LG Tone Free TF8 Earbuds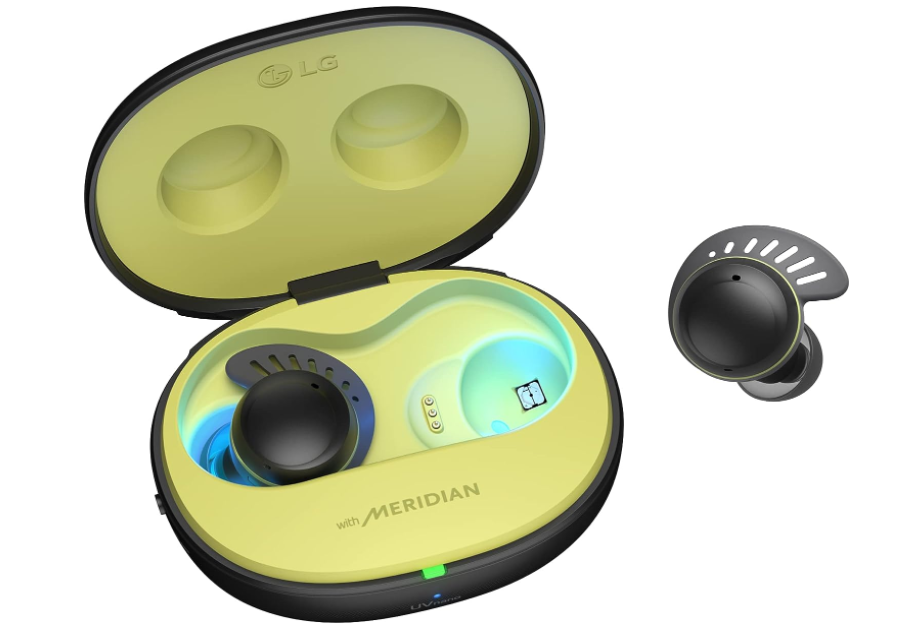 Wireless earbuds design that can bear high vibrational effects while running with a vibrant sound quality is a desire of many. LG Tone Free TF8 comes forwards with its premium built-in, slightly expensive range. It's a great choice for its noise cancellation and sleek design.
Spatial Audio
The first and foremost quality of LG Tone Free TF8 is that it delivers a highly-immersive 3D cinematic sound experience. Its spatial audio has numerous EQ presents that are adjusted automatically according to the sound. These wireless earbuds have a surround sound feature which is highly effective to help you focus while on a jog.
They also showcase IP67 Dust and Water resistance, keeping unnecessary moisture and dirt accumulation at bay. The technology also does not allow any malfunctions in terms of its working capacity due to sweat or moisture.
High-stability Swivel Grip Technology
Let's talk about its highly anticipated feature here for our readers. These earbuds come with Swivel Grip Technology, which highly enhances the gripping ability. Its built and air circulation design are optimized for the user's comfort. Even when you are running through rough terrains or at high speeds, the earbuds for running stay in place and do not fall off.
Additionally, it also has Meridan Sound System for a clear and dynamic sound from both speakers.
Active Noise Cancellation Enabled
Another feature that enhances the overall working of the earbud is its Hybrid active noise cancellation. It drowns out excess noises through its two mics that are built to keep noise out. It optimizes use and ease.
Moreover, it comes with different earbuds tip sizes for users for a perfect fit.
UV Nano+ Charging Case
The earphones have a long battery life along with its user-friendly UV Nano + charging case. It is built to kill 99.9% of bacteria from the ear gels. It does so during charging within 10 minutes.
It makes use of UV-C light to find and kill bacteria actively protecting the user's ear canal from any harm. This is a major selling point of these earbuds and rightly so created its high rating among users.
The earbuds are covered with a 1-year manufacturer's warranty.
Pros
● High grip with ear hooks
● EQ presets integrated
● Greater water resistance
● Ultra-light
● Affordable
● Long battery life
● 1-year warranty
Cons
● A little bit expensive
● The ambient mode only activates with both earbuds on.
● Error in touch controls.


7. Sony WF - 1000XM4 High Clarity Sound Earbuds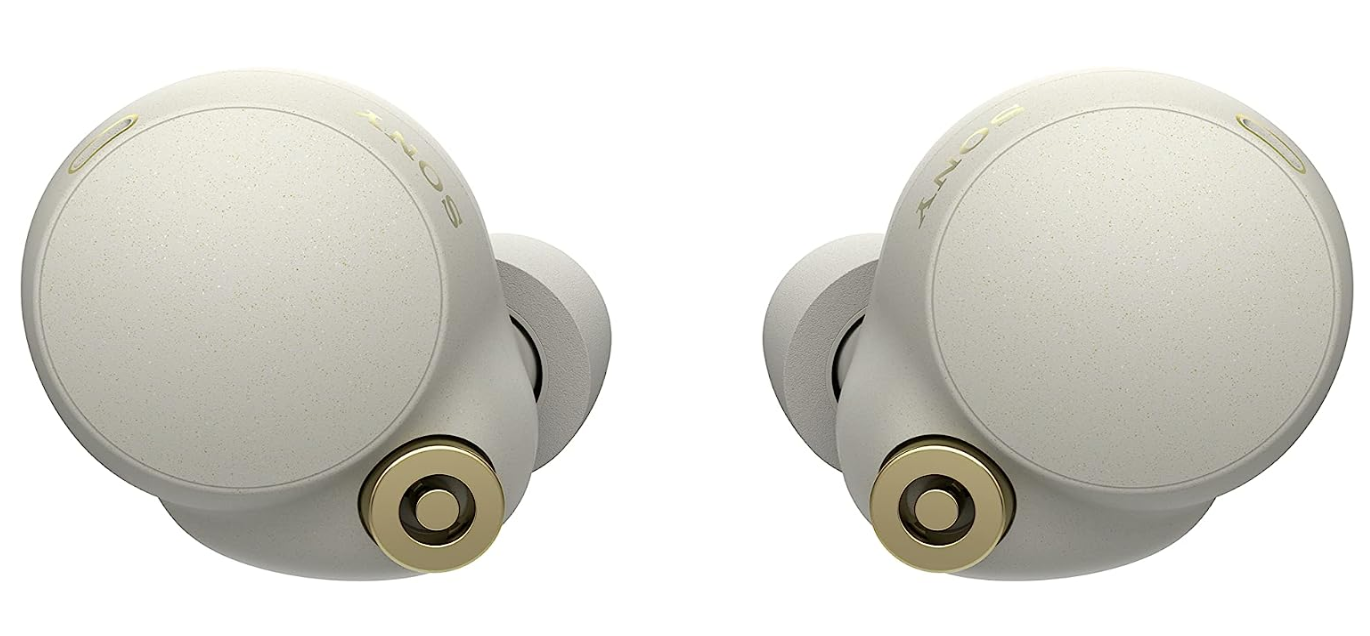 If you are searching for earbuds with more vocal and instrumental clarity, then do not look further than the Sony WF - 1000 XM4. These wireless earbuds offer premium sound quality with ultimate grip for your running endeavors. Its in-ear design lets it stay put in its place while offering long playback time.
Ergonomic Design
The earbuds are optimally designed with the latest technology, keeping the in ear headphones fit of the ear in mind. Its surface design is created to match the shape of the ear cavity for a great fit s.
The material used in these earbuds is high-quality and does not feel hard against the sensitive ear skin. Thus, it improves the comfort level for the user on long runs or other physical activities.
High Water Resistance
It has IPX4 water resistance which works great in rainy weather and in terms of any water splashing. You can now enjoy a jog in the rain without fear of destroying these earbuds and enjoy 8 hours of uninterrupted playback.
Quick Charging Ability
Another great feature of these headphones is that only, with a 5-minute instant charge, gives 60 minutes of playback time. Apart from this, it offers 24 hours of listening time, reducing the inconvenience of charging these again and again.
High Noise Cancellation
The Sony WF -1000XM4 comes with an integrated V1 processor, which is a great factor in enhancing its overall noise cancellation. It also greatly improves call quality by controlling all 4 microphones built within the design.
The call quality is clear and precise and has a long-range working with its advanced Bluetooth connectivity. Its multipoint connection ability lets users switch between two devices without much hassle.
While the right earphones can enhance your running experience, pairing them with high-quality activewear can make a world of difference. For top-notch performance gear, explore our Men's Activewear collection for the perfect fit and style.
Pros
● High performance
● Multipoint connectivity
● High overall rating
● Clear sound quality
● High water resistance
● High value for money
● 1-year warranty
Cons
● Expensive
● Earbud tips memory foam, not durable
● Low ambient sound


8. Sony Link Buds Truly Wireless Earbuds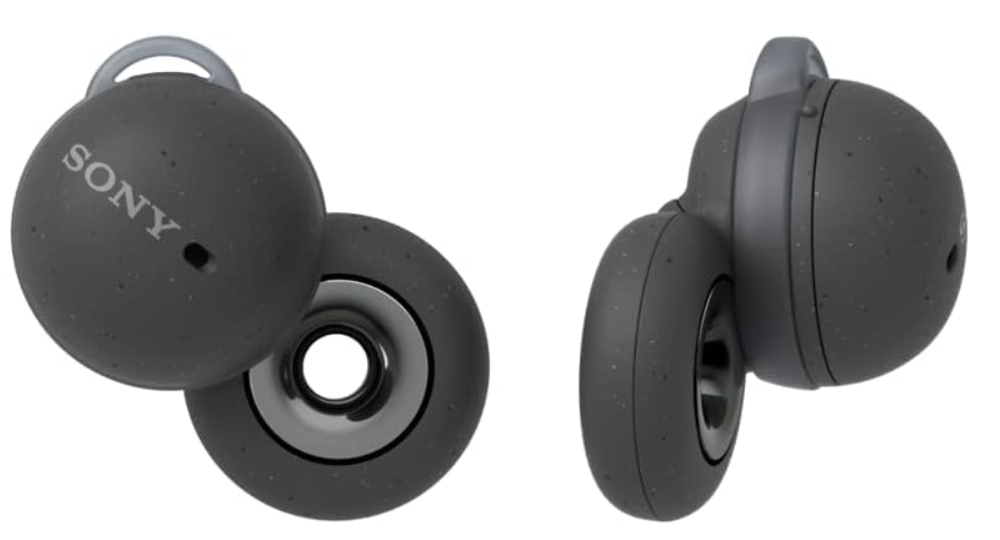 Users looking for lightweight, yet efficient earbuds for an effective running experience can consider Sony Link Buds without further thought. These earbuds are built according to the user's hearing demands within an affordable price range. This comes with water resistance and a stylish pocket-friendly charging case.
Portable Built
These earbuds are ideal for users that do not like bulky charging cases and need something on the go. They are super light with an open ring design. They come with a case design that can fit anywhere from your pocket to the side of your backpack. Not only is the built simply small, but also very handy and exceptional to carry during physical activities like running or working out.
It has a 5.5 hours battery life and supports a quick charge feature. This enables users to charge it for 10 minutes and have a 90-minute playback time without any changes in sound quality.
Adaptive Sound Control
The feature that is the latest modification is its adaptive volume control. Depending on the surrounding environment, the earbuds adjust the volume accordingly. They reduce the volume in places that are less noisy. Similarly, they increase the volume for the listener automatically in busier and noisier places for a premium feel.
Alongside this, it offers IPX4 Splash resistance, which keeps the running earbuds intact even in rainy or moist conditions.
Voice Assistant Compatibility
These have a Multipoint Bluetooth connectivity feature and are voice assistant compatible. All you need to do is press one button manually, and it takes you straight to your phone's In-built voice assistant.
This helps users navigate through music and calls without having to manually switch between them. The balanced sound quality it offers is clear and precise with Voice Pickup Technology in calls.
Enhanced Tap Control
The Sony Linkbuds are highly convenient with Wide Area Tap which covers major gesture control. By simply double or triple tapping on the frontal portion of the ear, you can easily alter between the songs you want to hear. It optimizes performance.
These also are covered under 1-year manufacturer's warranty.
Pros
● Durable
● High-quality sound
● Voice Pick Up Technology for calls
● High comfort level
● Affordable
● Versatile design
● Lightweight
● 1-year warranty
Cons
● No noise cancellation
● Low battery life


9. JLab Go Air Earbuds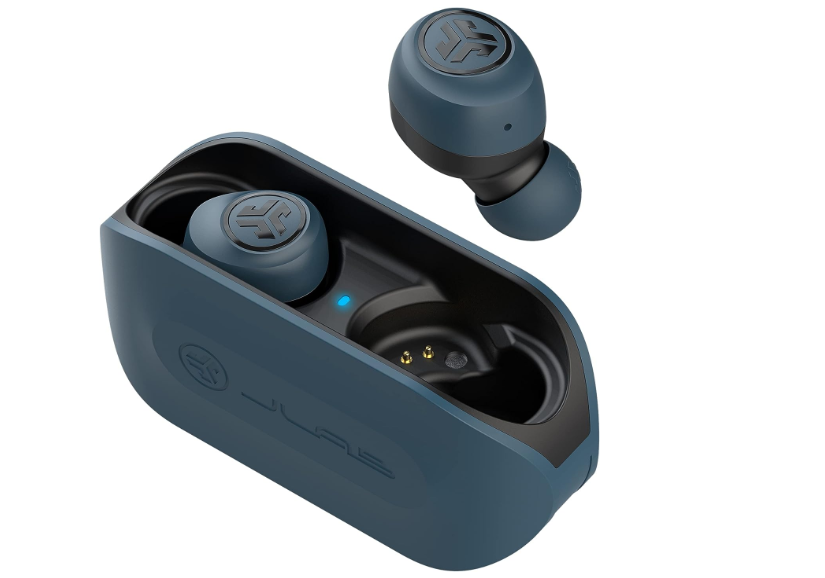 With personalized sound quality and a smaller shape, JLab Go Air Buds are great for an all-over luxury feel. These earbuds detail a set of advanced features that let build an outstanding 4.2 of 5 rating. These come with a charging case with a soft-to-touch and user-friendly build.
Ergonomic Design
The JLab Go Air Earbuds are built with high-quality A-grade plastic, morphed in such a way that it displays a slimmer profile. It is an ideal fit for smaller ears and high stability. These come with a long stem which lets them stay in place and control the earbuds easily.
These also come with a long playback time, of 20 hours plus. These have 5 hours of battery for each earphone. A charging cable is included with it, which increases its overall value for money.
Customized EQ3 Sound
The crystal clear sound quality these generate is due to its 8 mm neodymium drivers. The user can shift between 3 modes that are JLab Signature, Balanced Sound, and Bass Boost Modes. These do not require any application to keep them up and working.
Dual Connect Technology
The dual connect technology of these earphones lets its user use a only one earbud at a time or two earbuds at the same time. Its in-built MEMS microphone also enhances call quality even in long-range.
JLab Go Air Earbuds come with a 2-year warranty.
Pros
● Portable
● Durable Built
● High comfort
● High value for money
● Lightweight
● Affordable
Cons
● Connectivity errors
● Poor battery life


10. Beats Studio Buds Wireless Earbuds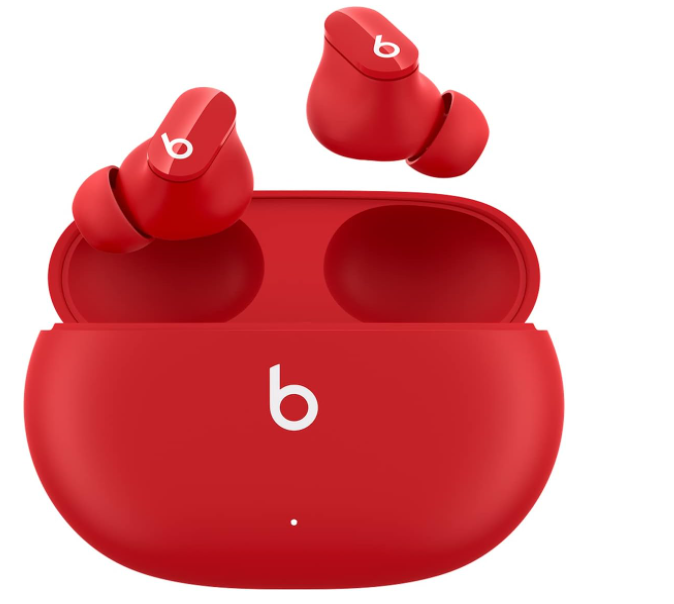 If you are searching for earbuds that offer premium quality surround sound within an economical price bracket, then Beats Studio Buds are an exceptional option for you. Their distinct design with ANC or Transparency mode enhances performance and aesthetic appeal. These offer an open listening experience with their external facing microphones, which mix surrounding sounds with the user's music for a great listening experience.
Integrated Spatial Audio
The Beats Studio Buds are engineered to deliver balanced sound with integrated spatial audio. They offer acoustic control with an immersive feel. These contain dual-element diaphragm drivers within their design. It provides stereo separation for a more user-focused sound effect.
Moreover, these come with 3 sizes of ear tips for different ear sizes for a stable grip. If chosen accordingly do not let the earbuds fall off during runs.
Adaptive Listening Modes
Another feature that makes these intuitive is that they have two listening modes. These include Active Noise Cancelling and Ambient Transparency Modes. Users can switch between these two. The first one can be utilized for a more focused feel by drowning out surrounding noises. The second one lets the users stay aware of their surroundings with light transparency.
These can be interchanged with just a tap of a button. They also have voice assistant compatibility for iOS or Android. It lets you get to the voice assistant for controls with just one gesture.
Long Battery Life
A great listening time of 8 hours is what makes it a favorite among its users. It adds to the time with 2 additional charges from the charging case. All-in-all, these earbuds give its users 24 hours of audio playback for calls and music. It reduces charging time and lets users enjoy an extended listening experience.
Advanced Bluetooth Connectivity
Moreover, these come with ultra-modern Class 1 Bluetooth installed in them. With a digital processor for voice clarity, its Bluetooth allows users to make long-range calls. These offer strong connectivity with no dropouts with area changes or interruptions. It also has IPX4-rated water resistance and sweat resistance for your long runs.
The beats studio budscome with an outstanding 1-year warranty.
Pros
● Versatile design
● Long battery life
● Modern Built
● Lightweight
● Clear sound quality
● Variable Listening Modes
● High value for money
● Affordable
● 1-year warranty
Cons
● Sensitive Touch Controls
● Malfunctioning physical button
Side-by-Side Look at the Top Earphones
Now that we have detailed all the best options for earbuds, let's look at a side-by-side of some of the best ones below.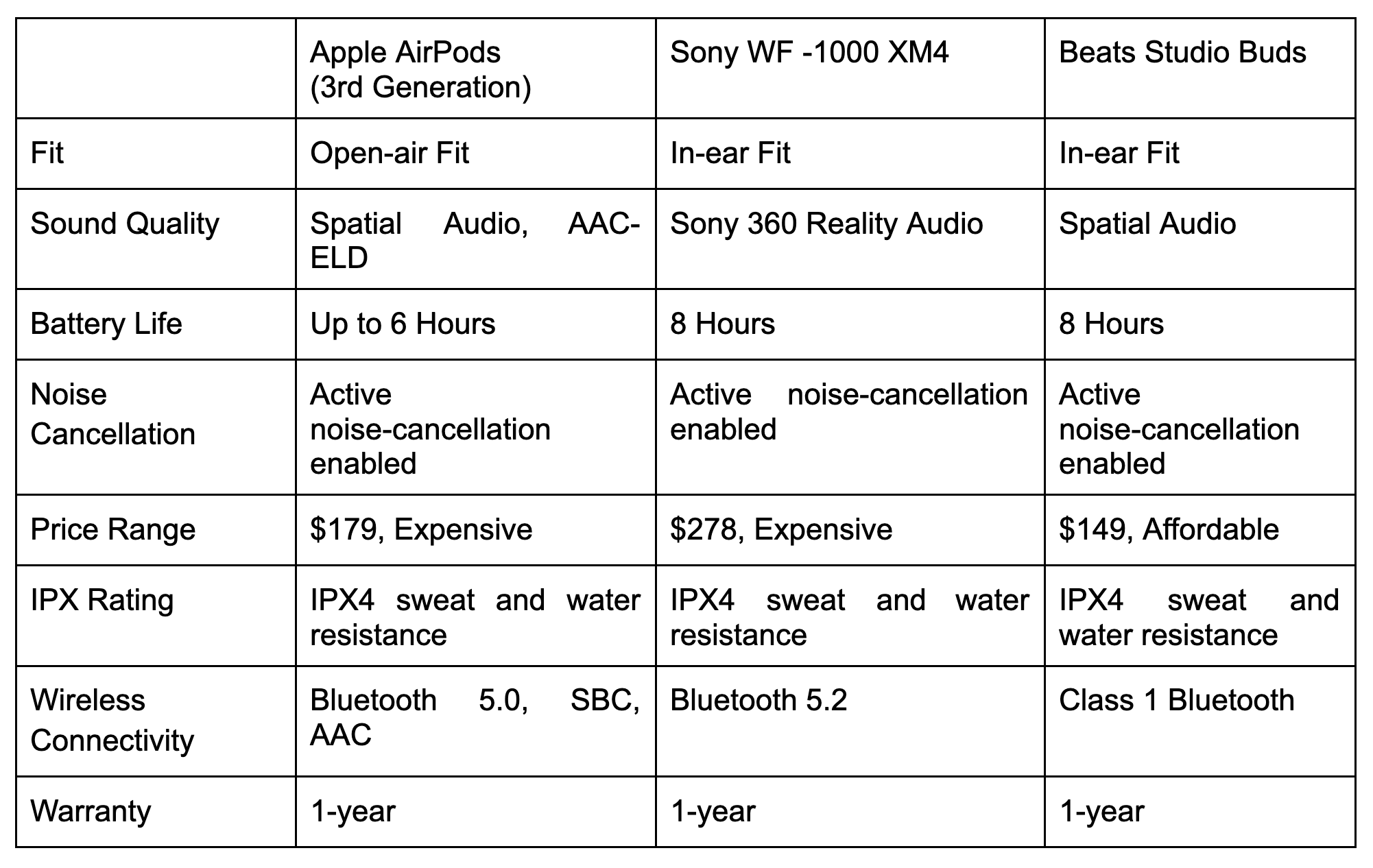 Which Earphones Offer the Best Value?
According to our research, review, and comparison, among all the earbuds listed, we think Beats Studio Buds offer the best value. These earbuds offer high-quality sound, keeping in mind a price range that is within reach.
These offer various fitting sizes and high stability. Their design is ideal and does not fall out during running, making them ideal for high-energy workouts. Their better battery life offers maximum support and a lightweight design.
How to Choose the Right Earphones for Your Needs?
Wireless earbuds have become a necessity in this modern age. Whether you are on the go for everyday activities or other physical activities such as working out or running earbuds offer maximum functionality.
For an interruption-free music and call experience these earbuds are sought after by the majority population but finding the right ones with optimum features can be challenging. We have outlined some key factors that should be considered before choosing earbuds.


1.
Stability and Design

First and foremost, high-quality build, design, and stability can enhance performance by several folds. Ensure that the earbuds are made up of A-grade or equivalent plastic and high-grade rubber for ear tips for greater comfort. Also, Explore If the earbuds are designed keeping in mind the shape of the ear cavity. This can improve its fitting and stability and does not let them fall off during running. These make them the ideal running earbuds.




Some brands utilize low-quality plastic without a thought of keeping the ear canal shape's consideration. This may lead to an uncomfortable fit and a lesser lifespan of the earbuds.


2.
Wireless Connectivity

Another important factor to consider before getting wireless earbuds is that they have high-class Bluetooth integration. Make sure that they offer long-range connectivity and do not cause dropouts with external factors interrupting like wind noise. This will lead to a smooth music listening and calling experience.




The wireless earbuds with poor connectivity consume more battery life and have to be connected again and again. This can lead to inconvenience.


3.
Sound Quality

A premium sound quality is what makes up the most vital component of an earphone. Frequency range, sensitivity, and impedance should be observed to choose the best option. These as a result create better sound. Spatial audio features and EQ audio quality features also improve immersion and clarity according to the listener's requirements.


4.
Battery Life

A long battery life is equivalent to a long listening experience without worrying about charge. Look at the charging time of the wireless earbuds along with the playback time it offers. A long playback time reduces electricity consumption and improves the performance of the earphones. You can go all day without charging the earbuds.




On the other hand, low battery life can hinder the user's activity and let them feel more agitated. This is due to putting the earbuds on charge several times.


5.
Price Range

A great pair of earbuds should be budget-friendly. Additionally, If they are luxuriously well-features, then they should balance out the value-to-price ratio. A high-quality earphone should have all features covered at an optimum price range. They should not cost you a fortune for a stress-free experience.


6.
IPX Rating

An IPX rating entails that the earbuds are tested to endure complete submersion. These are tested under strenuous conditions for durability and resistance. IPX4 rating is ideal when it comes to earbuds. Ensure that the earbuds are up to standard regarding this for better performance.
Summarizing
With a greater shift towards user-focused technology, truly wireless earbuds have taken the world by storm. A greater portion of the population is inclined to use wireless earbuds for an enhanced listening experience.
However, a great deal of users deals with the issue of earphones falling off during running. This issue can be resolved by choosing high-stability earbuds and gripping technology. We have listed some of the top-selling and highly-rated earbuds in our list of Top earphones for running that don't fall out.
Among them, some earbuds showcase high-quality spatial audio while others have Multipoint connectivity for an automated shift between devices. Moreover, with our buying guide, you are sure to retain everything you should be aware of before getting a pair of earbuds. We hope this article holds all information essential for you to consider and reach a highly informed buying decision.
After ensuring you have the perfect earphones for your run, it's equally important to have the right attire for comfort and style. If you're looking for shorts that combine both, check out our Ultimate Men's Booty Shorts Shopping Guide for recommendations.